After my Mini Cooper, Benny pooped out and one of the places I tried to purchase a new car from tried to screw me over lying about the title not being a prior salvage and swindling me out of a $100.00 to hold the car, I finally have a cute new car with hardly any miles that runs great!
Everyone? Meet Nermal!
Yes, she's purple! Grape metallic ice to be specific.
QOTD: Have any of you had a bad experience with a car dealership or salesman?
Current Romance WIPs: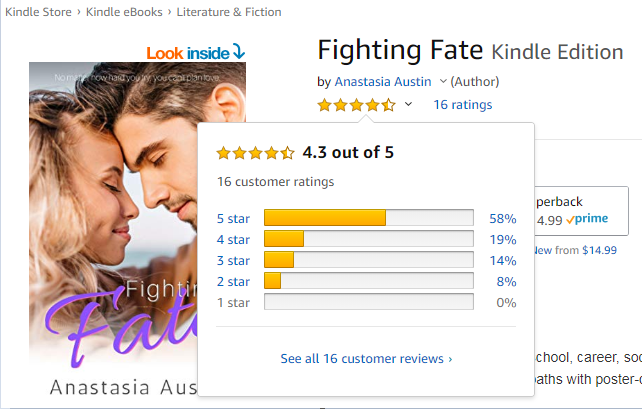 FIGHTING FATE – It's alive!!!
And doing well! Thank you for all your support. If you've read it, I hope you loved Katie and Isaac's story. If you haven't, I hope you give them a chance. They are such a sweet couple.
Love it or hate it, please rate it♥
FACING FATE or ARRANGING FATE [Title might change] – Book 3 in the Fate series! This book decided to give me some trouble. To be fair, it was mostly my fault. When I started writing Jake and Amber's story, I completely forgot to ask them what they wanted from each other. So there I was, 33K words in, not even close to the middle of the book, and their relationship was going nowhere! 
After going back and asking the question, I have reoutlined, organized, and now these two are ready to turn up the heat!
PLUS ONE – On the back burner.
SECOND CHANCE – On the back burner.
Romantic Fantasy WIP – Considering picking this up after Jake's story is finished. It's an old story I'm resurrecting and making romance a huge part of the plot. I have two words for you… MATING BONDS!
Word Counts:
Previously, on Word Counts… "God willing and the creek don't rise, I'll have a first draft [Jake's story] done at the end of September!"
HAHAHAHAHAHAHA!!! Yeah… that didn't happen.
It's extra funny because we got SO much rain in September, the creek did actually rise! lol
Even though I didn't finish Jake's story, I did write on FOUR different projects. Most of those words were for the outlines of two projects and the other was a short film script but words are words! It's all progress!
Publishing News:
With the release of FIGHTING FATE on September 17th, I also saw a boost in sales for FAKE TO FATE! Such a nice surprise!
Also, that boost put FAKE TO FATE in the top 200's of the comedy category!
Read in September:
Thanks for reading. Keep moving forward!
---
Buy the first two books in the FATE series today!
Thank you!