February was a great month for words!
Querying:
Rejected again but asked to resubmit in another 4-6 months. Need to work on deepening POV and show don't tell. Fortunately, the editor from whom I received this feedback gave me some great materials and advice to help with this.
Current Novel WIPs:
THE GODWING WAGER – Reworked the plot. It's now going to be a romantic fantasy. You'll see why later in the post.
SON OF A STAR QUEEN – Still no further development.
SKIN AND SCALE (Sequel to A PRELUDE OF DRAGONS) – Still sitting on the shelf.
A PRELUDE OF DRAGONS – Back to revisions soon.
GRIT & HONEY – On hold while I get going on a new venture.
FAKE TO FATE – This is going to need more explaining than I have room for in this post. I'll cover the gist in the new Word Counts section. Stay tuned for a Just Writing Things post all about my decision to embrace my love of writing romance and to self publish.
Word Counts:
Two days this month I went off the chart! (I did not go off the chart on the 28th. I just used the wrong color. Whoops!)
The 1st through the 6th were word counts for Grit & Honey. On the 7th, I made the decision to write a contemporary romance and begin my journey to self publish. I brainstormed for five days then started writing Fake to Fate on the 12th. As of last night, I've written 18, 031 words. The goal is 30K. Almost 2/3 of the way there in less than 4 weeks! I plan on finishing the draft by the end of next week. After that, I will revise. Then, ask for beta readers. Then revise. Then, fingers crossed, PUBLISH!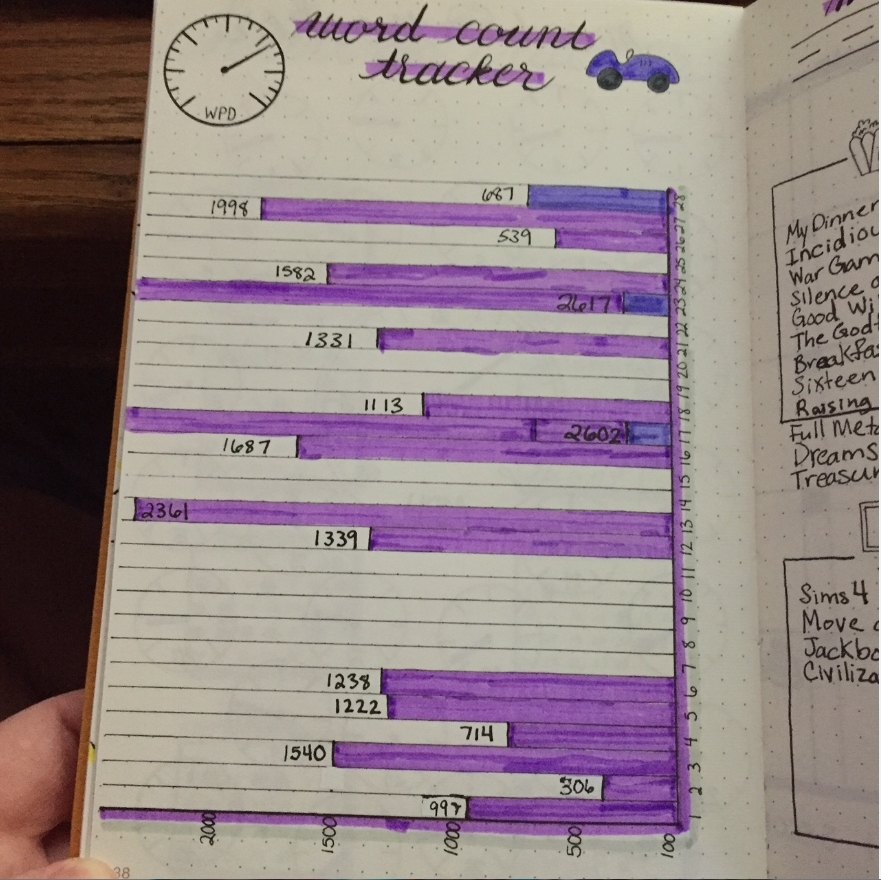 Reading:

Thanks for reading. Keep moving forward!