I think I've accomplished a decent amount already this year. 2019 is shaping up to be a good one.
Querying:
Resubmitted to an editor at a press and to 3 other agents because why not? I needed this. And to give myself permission to move on from the "Dragon" book. Whatever happens at this point, I'm at peace with it.
Current Novel WIPs:
THE GODWING WAGER – No further development.
SON OF A STAR QUEEN – Still no further development.
GUILD OF TEARS BLOG SERIES – I'm hoping, now that I'm back in drafting mode, I can come back to this soon.
SKIN AND SCALE (Sequel to A PRELUDE OF DRAGONS) – Still sitting on the shelf. If I get an offer of representation or contract to publish, I'll move this up the list.
A PRELUDE OF DRAGONS – On submission/querying.
GRIT & HONEY – Making great progress on this one! Trying to write every day in February to get done drafting as quickly as possible. Current word count is 8,339!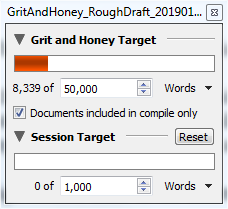 My goal for the rough draft is 50K but, you know me, I won't hold myself to it. It'll end when it ends.
I'm having a blast telling these character's stories. Unlike other projects, I'm letting myself indulge in tropes. As a result, my structure is stronger. The scenes are flowing more easily and themes more clearly. I wish I could be more specific. In time!
If you want more information on how this came about, visit my last Just Writing Things post.
Short Stories:
Might try writing more after I'm done drafting Grit & Honey.
Reading:
Nevernight by Jay Kristoff
Goodreads ratings: 4 stars
What a dark, delicious read. So glad I gave this another chance. Couldn't handle the footnotes the first time I tried. This time I skipped them unless I was genuinely confused about something. WORTH IT!
Falling Kingdoms by Morgan Rhodes
Goodreads ratings: 4 stars
This was a reread. My initial rating was 3 stars and my review…
This was in interesting read. It was a slow go but I never thought to quit. The writing was clunky, but the story and characters kept me engaged. By the end, which is obviously only a beginning, I was ready to keep reading.
I don't know why I had those issues the first time. It was much better than I gave it credit for then. I'm excited to continue the series.
Well… I think that does it. Some ups and downs, but all in all a good month.
Thanks for reading. Keep moving forward!