What's this? A timely update?! I know, I can't believe it either.
Querying:
From Stars, Come Dragons: I'm officially taking this one off the table. Technically, there's still one publisher I haven't heard from but that's OK. I'm going to file it as a rejection and move on because I have PLANS!
Current Novel WIPs:
THE GODWING WAGER (formerly STORMWING. Formerly, formerly TDB) – No further development on this one but I've been thinking about it a lot. This is high on my to-do list.
Son of the Star Queen – Still no further development. This is most likely going to be shelved for a while. It's the one I've done the least work on. Last in, first out.
GUILD OF TEARS BLOG SERIES – I should probably do a proper update for this one. It's been on my mind more lately but I don't want to spread myself too thin again. I'm taking a one-WIP-at-a-time approach to my writing right now.
Skin and Scale – This is where those PLANS I mentioned earlier come into play. I'm making amazing progress on this! Here's a screenshot of my word count progress as of last night. I blew away my daily goal and am almost at the halfway mark for my rough total word count goal (emphasis on rough!)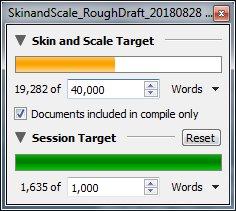 Here's the PLAN… I'm going to finish this WIP in October. November or as many writers call it NaNoWriMo, I'm going to be writing a script for/with my husband. After NaNoWriMo, it's back to this series, writing the rough draft of the third and probably final book. When THAT'S done, it's back to book 1, FROM STARS, COME DRAGONS for a complete rewrite. That's right! A complete rewrite.
It's too much to go into detail here so I'll make a separate post about what and why I'm doing this.
Short Stories:
If you haven't yet, check out the short stories I've already posted!
Under the Amethyst Sky – Released May 15th. You can read it here!
The Witches in the Wood – Released June 15th. You can read it here!
Reading:
#KissOfSeptember
The Remnant Chronicles by Mary E. Pearson
Goodreads ratings: All 5 stars
I won't go into detail since I posted about these all month but they are amazing and if you haven't read this series yet, do!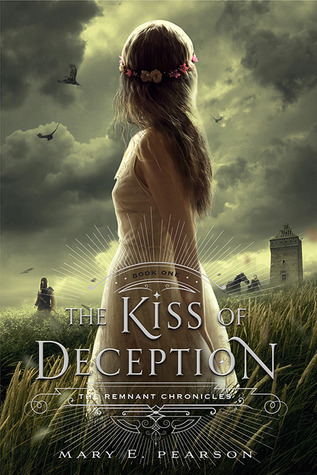 Well… I think that does it. Some ups and downs, but all in all a good month. Thanks for reading! You're all amazing!