Writing has been going really well this week! I've been going strong on my new-old WIP (the sequel to FROM STARS, COME DRAGONS) currently titled SKIN AND SCALE.
As you can see, by the name of the file in the word count target photo, I started writing this on August 28th. Exactly one month ago. In that time I've written over 16.5K words but most of those were in the first week and this last week, since most of September was spent keeping up with the #KissOfSeptember buddy read.
I'm being generous, saying I wrote 16K words in two weeks. There were days, during the buddy read, I did write. The thing is, enough of the words were written in those two weeks on either side of the buddy read that I'm confident I can hit my 40K goal by the end of October.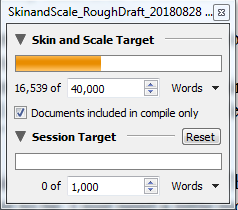 How did I come up with my 40K goal, you ask?
Well, it's mostly based on my process and past finished rough drafts. I'm a pantser. Basically, I get an idea, I sit down and start writing. So, my rough draft ends up being short compared to a plotter's first draft. It's pretty much just a REALLY detailed outline. The rough draft of FROM STARS, COME DRAGONS was about 44K. After revisions, it's over 80K. Another WIP, A RIBBON IN THE FIRE, was about 36K when I finished the first draft. It's been through some revisions and one round of beta reading (currently shelved, for reasons) and is about 70K now.
I have no clue how long the rough draft of SKIN AND SCALE will be, but I can guess it will be around 40K. But I'm certainly not limiting or aiming for that number. It just a nice visual representation of my progress. I like seeing the little bar go up.
I honestly don't know where I was going with this post. I'm just happy with my progress and wanted to share.
Thanks for reading!