I read to chapter 53 last night and wow! This book is even better than I remember. I mean, look at what I wrote after I finished it the first time!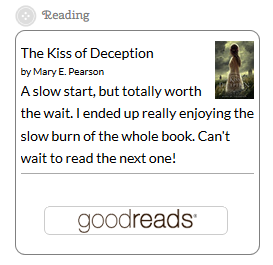 What was I thinking?! SLOW START?!?!? I mean, it is a slow burn and when it picks up, BOY does it pick up! But it's not a slow start like it's hard to get into. It builds so organically that your heart beats faster and faster the further in you go. It's flipping incredible! UGH! I hate that I wrote that. It does not accurately represent my true feelings about this book.
Anyway, how are you doing? Where are you in the read? What do you think of it?
If you want to see what everyone else is up to with the buddy read you can follow along on Twitter using the #KissOfSeptember tag. And make sure you follow fellow readers…
LaughnListener and Blog
FictionNoChaser and Blog
bookstormgirl and Blog
And here's the schedule:
Thanks for stopping by! You're all lovely!