Still a few days late but I feel it was for a good reason. I'm writing regularly again!!
Querying:
From Stars, Come Dragons: I haven't done anymore submissions for this. Still waiting to hear back from a couple of publishers.
Current Novel WIPs:
THE GODWING WAGER (formerly STORMWING. Formerly, formerly TDB) – No further development on this one.
Son of the Star Queen – Still no further development. This is most likely going to be shelved for a while. It's the one I've done the least work on. Last in, first out.
GUILD OF TEARS BLOG SERIES – I finished a couple more scenes episode 3 after my last update but haven't written anymore on it since things have been going so well with my "new" WIP. I haven't forgotten or abandoned this. I just have to write what begs to be written and unfortunately, it's not this at the moment.
Skin and Scale – This is my "new" WIP. I say "new" because all the prose is new but this is actually the "sequel" to FROM STARS, COME DRAGONS. I say "sequel" because it's not actually a continuation of the first book. It's more like a companion novel that is very closely bonded with the other book. It follows one new and one different POV and the timeline of this book overlaps with the other. Honestly, I think it's really interesting and I love it! Since last Tuesday, I've written over 7K words! I can't remember the last time I averaged 1K words a day. I'm making time to write, rather than avoiding it. Even though I have so many other things I have to and want to do. It feels good to be writing again. And because you all have been so good to me and so very patient when I've promised to post more stories and failed, here are the first few, unrevised, unedited lines of my rough draft!
One cup of piping hot tea, two hands trying to pat his shirt dry, and three words later, Tom was sure his two-hundred-year-old secret had been discovered.
"I'm so sorry," she said.
Even if the small, flame-haired woman wasn't exactly sure of what she felt beneath the dampened fabric of his shirt, the stillness in her bright green eyes told him she knew it wasn't natural. But did she know it wasn't human? And if she knew, would she be so kind?
Short Stories:
If you haven't yet, check out the short stories I've already posted!
Under the Amethyst Sky – Released May 15th. You can read it here!
The Witches in the Wood – Released June 15th. You can read it here!
Reading:
The Picture of Dorian Gray by Oscar Wilde
Goodreads rating: 3 stars
This started out strong. I was enjoying everything about it. Then, about halfway through it lost all momentum. It certainly wasn't bad but I lost interest. Sure, in the end, Dorian got what was coming to him but too little, too late. I had no remorse for him. And perhaps that was the point. I don't know. I just didn't care for it.
Dance of Thieves by Mary E. Pearson
Goodreads rating: 5 stars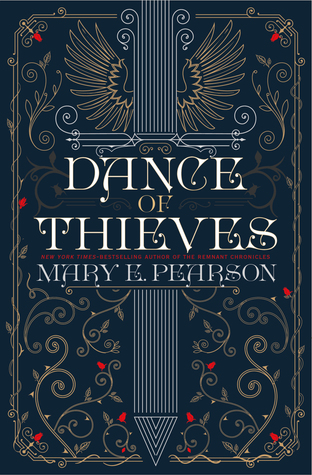 I just… It's so good! It's perfect! And I'm an absolute mess now. It's my favorite book of all time. I can't find fault with any aspect of this book. Perfection.
Well… I think that does it. Some ups and downs, but all in all a good month. Thanks for reading! You're all amazing!